Kofler China
Your Hospitality Hub in China
Kofler china opened his door in March 2016 with the vision to establish a hub and benchmark for hospitality in Asia.
Following the DNA and the footsteps of the Kofler Group, Kofler China set up his first operation in China in the iconic Mercedes-Benz Arena Shanghai.
With a strong base and a strong team of 120 people, Kofler China not only service the Mercedes- Benz Arena but also provide outside catering services to its clients all over mainland China.
Resting on the Southern bank of the Huang Pu river, the Mercedes-Benz Arena glows like a fresh tumescent pearl.
As one of the remaining structures after the Shanghai World Expo, the Mercedes-Benz Arena stands proudly nestled among the China Pavilion, Shanghai Exhibition Center, and the Shanghai Theme Pavilion.
A shining beacon of architectural achievement, the Mercedes-Benz Arena, 18'000 seats, is a leader, steering Shanghai entertainment towards new and interesting shows, events and sports culture. An international landmark, the curtain will never fall on what will become Asia's one and only art, lifestyle, leisure, and live entertainment arena.
Kofler China is exclusively operating in the Mercedes-Benz arena. The team is constantly developing new food and beverage concepts for the general admission concessions, the VIP suites or the in-house corporate events.
Client Name(s)
AEG, OPG
Location
Shanghai, China
Commencement
2016/5/1
Milestone in 2019
99 events
812'122 guests
Kofler China's home for
Office 250m2
Central Production Unit 1500m2
HACCP approved ISO 22000:2005
Outside Catering Licence (N°21/22)
Venues & Capacities
18'000 seats
88 Luxury Suites
2 Lounges
The Mixing Room: 700 Seats
12 concession stands
20'000 square meters
#1 Arena in term of shows, and
sport events numbers in Asia
More than 300 events with over
800'000 attendances.
Scope of Services
Kofler China is the exclusive operator of the Mercedes-Benz arena. The team is constantly developing new food and beverage concepts for the general admission concession, the VIP suites or corporate events.
From general admission to premium hospitality, Kofler China is responsible for all F&B across the stadium.
Full service provider
Stadium catering services
Concession catering
VIP catering
Event & show catering
Overall hospitality products
Design development
The West Bund Art & Design Center was designed by Liu Yichun, a renowned Atelier Deshaus architect. Located in the old Shanghai aircraft factory at 2555 Longteng Ave, the West Bund Art & Design Center is an integral part of the West Bund Cultural Corridor.
Guided by a mission to "let art lead life," this 10,000-square-meter space boasts two stories of exhibition spaces, lecture halls, performance facilities, meeting rooms, and more.
The West Bund Art & Design Center opened to the public in 2015, and has since hosted art, fashion, and performance events in its capacity as a functional, flexible cultural landmark serving West Bund and all of Shanghai.
Kofler China was appointed by West Bund Group as the exclusive caterer of The West Bund Art & Design Center, in 2018.
Furthermore, Kofler China opened Bistro 2555, a casual dinning restaurant open to public.
Concept
Art Center Event Space
Bistro 2555
Venues & Capacities
8'500 sqm event space
320 sqm for the Bistro 2555
Client Name(s)
West Bund Art Center
Milestone in 2019
99 events
812'122 guests
Location
Shanghai, China
Commencement
2018/1/1
Milestones
Lexus National Launch
1'800 guests
12/01/2018
World Artificial Intelligence Conf.
4'000 guests
17-19/09/2018
Mademoiselle Privée Chanel
5'000 guests
18/04/2019
Shanghai International Art Fair
6'000 visitors
08-09/11/2019
Scope of Services
Exclusivity of the event space
From concept to execution
Event catering services
Bistro & Café operations
History
Industrial space served as the first airport in Shanghai in 1917
International event space hosting premium fashion shows, conferences, product launch
Our expertise is to deliver the perfect experience to your guests following our corporate motto "Satisfying All Senses". Our team has the ability to create and tailor made food concept based on the theme of your event or on the location.
From our central production kitchen in Shanghai we are able to cover mainland China. Kofler China has the outside catering license, the HACCP certification and the ISO 22000:2005 certification which allowed us to safely and legally operate event catering operations.
Whether your event is an automotive roadshow, a luxury roadshow, a gala dinner, a product launch or a sports hospitality event, our team of catering experts will be able to provide you with the right concept to make your event a success.
Kofler China Culinary team, lead by Executive Chef Daniel Ching is a talented pool of creative culinary minds. At Kofler China, food is a statement, an attitude towards life and style! Only when regional ingredients and preparation satisfy the highest standards will this be served on your plate. With a twist of innovation, culinary visions become reality. Your guests? They can just sit back and focus on indulgence.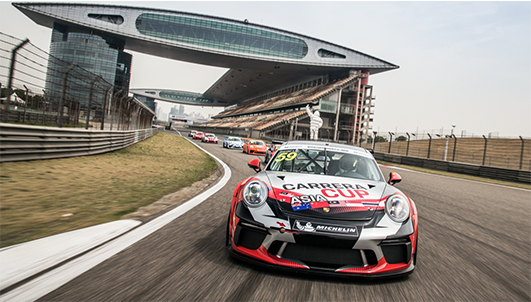 Porsche Carrera Cup Asia
since 2016
China, Japan, Malaysia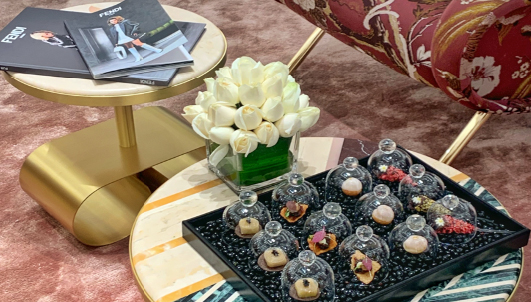 Fendi
2020
All Fendi Boutiques over China